RACING ESTA SEMANA
Additional Challenges

Current Nominees and Sustaining Payments
CARACTERISTICAS
SERVICIOS
Here Comes Candy (# 6) supera a Famous Coronas (# 1) en el John Deere Ruidoso Juvenile Challenge de $84,244 el Sábado en Ruidoso Downs.

© Jake Rogers / Ruidoso Downs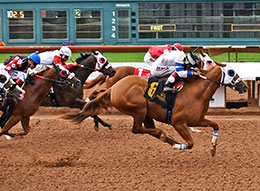 Here Comes Candy Gana John Deere Ruidoso Juvenile Challenge de $84,244
RUIDOSO DOWNS, NM — 28 DE AGOSTO DE 2021—
Here Comes Candy atropelló al líder temprano, Famous Coronas, para ganar el John Deere Ruidoso Juvenile Challenge de $84,244 por un cuello el Sábado por la tarde en Ruidoso Downs.
Bajo el mando de Francisco Calderón, Here Comes Candy completó las 350 yardas en: 17.625 segundos, lo que equivale a un índice de velocidad de 92 en un viento cruzado de 5 mph. Fue la tercera victoria en cinco salidas esta temporada para la hija del principal padre de segunda camada, Jess Good Candy . La bolsa ganadora de $38,752 aumentó su presupuesto a $51,812.
John Stinebaugh acondiciona al criado en Oklahoma para el propietario Rachuan Suarez. PV Quarter Horse Farms LLC crió a la potranca desde la yegua por Red Storm Cat, Candy Cartels Cat.
Con la victoria de hoy, la potranca alazána marcó su boleto por $125,000 estimados. El John Deere Juvenile Challenge (G2) Championship se disputará durante el Campeonato AQHA Bank of America Racing Challenge en The Downs en Albuquerque el 27 de Octubre.
Famous Coronas entrenado por Eddie D. Willis ganó $16,849 por el segundo. Jimmy D. Brooks montó el hijo de One Famous Eagle desde Sippn Secret Coronas por Corona Cartel . Zynda Racing es dueño de la ganadora criada en Texas de $35,928. Johnny Trotter es el criador.
Ill Be Gone, un hijo del padre de primera camada Big Lew , terminó tres cuartos atrás para el propietario y criador Reliance Ranches LLC. Mike Robbins entrena al castrado criado en Oklahoma de Fast Red Rose por Mr. Jess Perry . Noe García, Jr. estaba abordo.
Freighttrain King, Dedikated, Gettingafterit, Precious Dynasty, Tresponte, Tellem Im High y Jess Coronas completaron el campo.