RACING ESTA SEMANA
CARACTERISTICAS
SERVICIOS
Los envíos vencen el 1 de Mayo para la Subasta de Añales TQHA de 2020.

© Courtesy TQHA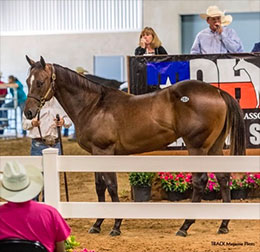 Formas de Envíos Disponibles Para Subasta de Añales TQHA
ELGIN, TX — 10 DE MARZO DE 2020—
Los expedidores deben recibir sus formularios de envío completos para la Subasta de Añales TQHA de 2020 antes del 1 de Mayo. La venta anual, establecida del 24 y 25 de Julio, se llevará a cabo nuevamente en The Exposition Hall en The Freeman en San Antonio, Texas.
La venta es para añales acreditados de Texas (ATB) y todos los añales que se vendan (deben pasar por el anillo de ventas) serán elegibles para participar en el 2021 TQHA Sale Futurity (RG3) de $450,000 estimados en Retama Park.
Todos los envíos para la venta de 2020 TQHA deben incluir:
Un contrato de envío completado / firmado en TQHA antes del 1 de Mayo de 2020
Debe estar acreditado con caballos criados en Texas (formularios y reglas)
Se debe verificar la paternidad a través de AQHA
Incluya el certificado de registro original de AQHA
Incluir informe de transferencia de AQHA completo / firmado
Incluye una tarifa de envío de $650 (por caballo), a menos que se apruebe lo contrario
HAGA CLIC AQUÍ para descargar un formulario de envío TQHA 2020.
Para obtener información adicional, visite el sitio web de la asociación en tqha.com o llame al 512-458-5202.