RACING ESTA SEMANA
CARACTERISTICAS
SERVICIOS
Blanchet Farms representará a 50 añales en la Venta de Añales LQHBA del 7 al 8 de Agosto en Opelousas.

© Courtesy Blanchet Farms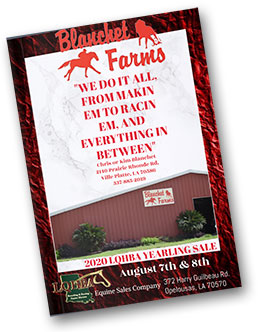 Blanchet Farms Lanza Flipbook de Venta de Añales LQHBA 2020
VILLE PLATTE, LA —20 DE JULIO DE 2020—
Blanchet Farms
de Ville Platte, Louisiana, publica su vista previa en línea de añales con fotos y páginas de catálogo de 50 añales criados en Louisiana que representarán durante la Venta de Añales LQHBA en Opelousas.
"Tenemos algunas perspectivas de carrera sobresalientes al liderar toros de Louisiana de familias de tipo negro sólido en la venta de 2020", dijo Kim Blanchet. "Le invitamos a visitar nuestra consignación en Opelousas para verlos".
Los toros representados en la consignation de 2020 Blanchet Farms incluyen Inseperable, Jet Black Patriot, Sir Runaway Dash, Tee Cos, Carters Cartel, Mr Piloto, Stoli, Cartel Jr, Heza Fast Dash, Game Patriot, Jess Elie, Jess Louisiana Blue, FDD Going Grand, Freighttrain B, First Prize Doc, Prospect To The Top, BF Farm Boss, TF Im That Guy, Worldly Man, The Louisiana Cartel, Coronas Leaving You, Glimpse Of Greatness y Brimmerton.
HAGA CLIC AQUÍ para ver la vista previa de añales de Blanchet Farms LQHBA.
Para información adicional contacte a Chris o Kim Blanchet al 337-885-2019.