RACING ESTA SEMANA
CARACTERISTICAS
SERVICIOS
La Venta Equina de Los Alamitos comenzará el Sábado en el Condado de Orange.

© Los Alamitos Equine Sale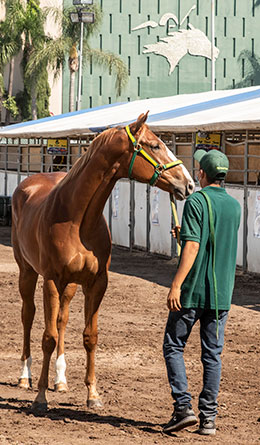 Venta Equina En Los Alamitos Comienza El Sábado
LOS ALAMITOS, CA — 1 DE OCTUBRE DE 2020—
La decimosexta venta anual de equinos de Los Alamitos comenzará el Sábado 3 de Octubre con el primer hip ingresando al ring de venta a las 10 am (PSD).
La Venta Equina continuará el Domingo 4 de Octubre a las 10 am. El video en vivo de la venta está disponible en losalamitosequinesale.com .
La venta de dos días contará con más de 300 envíos de las principales líneas de sangre en el deporte de las carreras Cuarto de Milla. Los añales y el ganado mixto disponibles representarán los mejores sementales y yeguas de cría de la industria.
Entre los sementales representados estarán Favorite Cartel , First Down Dash , Corona Cartel , Apollitical Jess , One Famous Eagle , Seperate Interest , Kiddy Up y la primera camada de añales de Fly Thru The Fire y más.
El barrio que lleva el caballo operaciones en la nación dirigida por Edward C. Allred carreras, el deporte de todos los tiempos criadores principales, 2019 campeón de AQHA criador Burns Ranch , el fallecido John Andreini, Lazy E Ranch , Vista Equina Colorado , EG High Desert Farms , Firth Ranch y otros nombres importantes tendrán envíos destacados en la venta.
Los graduados recientes de la venta incluyen el ganador de 2020 de Ed Burke Million Futurity de Grado 1, Chance To Excel, el ganador del Grado 1, Vessels Maturity de 2020, Chocolatito, el ganador del Grado 1, Go Man Go Handicap de 2020, Powerful Favorite, el ganador del Grado 2, PCQHRA Breeders Futurity de 2019 Sass Go Blue y el ganador del 2019 Southern California Derby, Mister Appolitical, el ganador del Governor's Cup Futurity de 2019, Pitbull, el ganador del Two Million Futurity de Los Alamitos en 2017, J Fire Up y más.
Casi todas las mejores familias en las carreras se presentarán en Los Alamitos Equine Sale. Además, la venta contará con una gran variedad de yeguas de cría que se venderán. La Venta Equina de Los Alamitos es administrada por la Pacific Coast Quarter Horse Racing Association.
* * * * * * * * * * * * * *
font size=1' face='Arial, Helvetica, sans-serif'>Cortesía de www.losalamitos.com .