RACING ESTA SEMANA
CARACTERISTICAS
SERVICIOS
El Padre Lider en segunda camada, TF Featured Effort, se encuentra en The Quarter Company en Chamberino, Nuevo México.

© Robert Edwards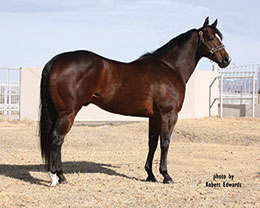 Padre #1 en Segunda Camada TF Featured Effort en Nuevo México
CHAMBERINO, NM — 26 DE FEBRERO DE 2020—
Ganador de múltiples Grado 2
Tf Featured Effort
SI 99, actualmente el padre número uno en segunda camada de 2020, está de pie en
The Quarter Company
en Chamberino, Nuevo México para 2020. Su tarifa se ha establecido en $2,500, con consideración a yeguas aprobadas.
Propiedad de Tf Featured Effort, LLC, hijo del ex Padre Lider Feature Mr Jess, ha engendrado 10 ganadores de solo 20 arrancadores en sus dos primeras camadas para llegar a la pista. Tiene 1 colocado en clásicos, multiples finalistas en clásicos con ganancias de más de $300,000 y ganancias promedio por arrancador de más de $15,100 por cabeza.
Sus mejores artistas incluyen Jess Featured Girl SI 92 (3 victorias a 3, $83,694 2do. NMHBA Quarter Horse S., etc.), Streaks Featured Tf SI 88 (2 victorias a 3, $43,495 finalista New Mexico State Fiar QH Futurity-RG3), Mr Ordegan SI 87 (3 victorias a 2, $26,522), Xtra Feature SI 94 (ganador a 3, $24,850, finalista New Mexico Breeders' Futurity-RG3), Effortless Candy Cat SI 105 (ganador a 3, $24,050) y Lewandosky SI 91 (2 victorias a 3, $21,942, finalista Shue Fly Stakes-RG3, New Mexican Spring Futurity-RG2), etc.
Jess Featured Girl (número 9), hija de Tf Featured Effort, perdió por poco en su última salida en el $100,000 NMHBA QH Stakes en Sunland Park el 15 de Febrero.
© Coady Photography
Tf Featured Effort
ganó o colocó en 21 carreras y ganó $343,403. Ganó el West Texas Maturity (G2) dos veces, KOFX-FM Handicap (G2), West Texas Derby (G3), La Plata Stakes (G3), fue segundo en West Texas Juvenile y tercero en Lovington Stakes (G2).
También fue finalista en el Championship en Sunland Park (G1), Remington Park Invitational Championship(G2), All American Gold Cup(G1), Zia Park Championship(G1)-dos veces, Sunland Park Winter Futurity(G2) y All American Juvenile.
El padre de Tf Featured Effort, Ganador del Grado 1 Rainbow Futurity Feature Mr Jess SI 99 ($539,327) es el padre de 72 ganadores de clásicos, 7 campeones, 436 ganadores y ganancias de $24,922,344 EE. UU., Incluyendo Heartswideopen SI 104 (campeón 5 veces, $1,885,283, All American Futurity-G1, etc.), Jess You and I SI 109 (campeón 4 veces, $1,851,691, Golden State Million Futurity-G1, etc.), Feature Mr Bojangles SI 103 (campeón dos veces, $899,434, Rainbow Futurity-G1, etc. ), Stylish Jess Br SI 103 (campeon dos veces, $804,298, Mildred N Vessels Memorial H.-G1, etc.), etc.
Su madre es la yegua productora de multiples tipo negro hija de Special Effort, Meadow Creeks Effort, madre de 8 ganadores, 3 de tipo negro que incluye el ganador de múltiples Grado 2 Tf Featured Effort SI 99 (ganador de clásicos arriba), ganador del Remington Park Futurity (G1) Le Magnifique FG SI 98 ($170,637), Marioette SI 96 ($29,248), Tf Tee Boy SI 102 ($72,340), etc.
La abuela es la productora de ganadores de clásicos hija de Easy Jet, Meadow Creek Dancer, hermana de ganadores de clásicos Clipper Flight SI 91 ($35,958), Easy Hoofer SI 97 ($51,429), etc. La bisabuela es la colocada en clásicos Topless Dancer ($54,892), media hermana del campeón, Padre Lider y ganador del All American Futurity Pie In The Sky SI 101 ($616,328), etc.
Para obtener información adicional o contratos de reproducción, llame a Jennifer Moore, Gerente de Granja de The Quarter Company, al (505) 933-1016.