RACING ESTA SEMANA
CARACTERISTICAS
SERVICIOS
El padre líder en primera camada, One Fabulous Eagle, obtuvo su primer ganador de clásicos hoy cuando Babes Fabulous Eagle ganó el South Valley Futurity de $27,178 hoy en Laurel Brown Racetrack.

© Amanda Glidden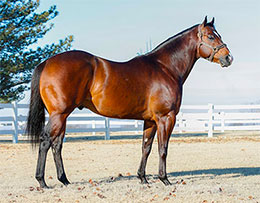 Padre en Primera Camada, One Fabulous Eagle, Obtiene Primer Ganador de Clásicos
WAYNE, OK —20 de Junio de 2020—
El padre líder en primera camada
One Fabulous Eagle
SI 97 obtuvo su primer ganador de clásicos el Sábado cuando Babes Fabulous Eagle derrotó al clasificado más rápido y compañero de cuadra Coronado Kiss en el South Valley Futurity de $27,178 hoy en Laurel Brown Racetrack.
Bajo el jinete César Moreno, el caballo castrado 2 añero corrió 330 yardas en: 15.892 segundos, lo que equivale a un índice de 99 velocidades. Ganó $10,471 por el esfuerzo. El entrenador líder Monty Arrossa ensilló a Babes Fabulous Eagle para el propietario Merlin Sharp, quien compró la madre de Babes Fabulous Eagle, Gone Babie Gone, en la Venta Mixta de Otoño Heritage Place 2017. El caballo castrado fue criado por Darling Farms.
Actualmente el padre número uno en primera camada de 2020, One Fabulous Eagle ha engendrado 12 ganadores, 1 ganador de clásicos, 1 colocado en clásicos con ganancias de casi $400,000.
Sus mejores artistas incluyen Jettz SI 90 (ganador a 2, $168,834 3rd Ruidoso Quarter Horse Futurity-G1), Babes Fabulous Eagle SI 99 (ganador a 2, $410,471, South Valley Futurity), Df Fabulous Pilot SI 86 (2 victorias a 2 , $21,898), Df Fabulous Maiden SI 89 (ganador a 2, $18,546, finalista Remington Park Juvenile), War Eagle SI 89 (ganador a 2, $14,758, finalista Remington Park Juvenile), Jessies Brown Eaglet SI 80 (ganador a los 2, $14,094 etc.), Df Fabulous Jet SI 84 (colocado en 2, $12,386, Heritage Place Juvenile), Peves Fabulous Lazie SI 90 (ganador en 2, $12,176 etc.), La Ventaja SI 87 (ganador en 2, $12,104), Kool And Fabulous SI 86 (ganador a 2, $12,025), etc.
One Fabulous Eagle ganó o colocó en ocho de 11 salidas de carrera y ganó $664,547. Ganó el Corona Cartel Invitational Derby en Ruidoso Downs, fue segundo en el All American Futurity (G1) y tercero en el Ruidoso Futurity (G1). También fue finalista en el All American Derby (G1) y el Texas Classic Derby (G1).
Es hijo del campeón y padre lider One Famous Eagle, padre de 6 campeones, 66 ganadores de clásicos y ganadores de casi $30 millones.
La madre de One Fabulous Eagle, Ladys Heart Of Gold hija de Strawfly Special, es la madre de 9 ROM, 6 de tipo negro que incluye a los ganadores de clásicos de hermanos completos Eagle One The Fly SI 103 ($217,619) y Dahteste SI 104, etc.
La abuela es la yegua Heza Fast Man, colocada en G2, Strength Of Heart SI 104 ($57,266), madre del ganador del Los Alamitos Invitational Championship(G1), Strength In Numbers SI 102 ($266,993), productora de múltiples ganadores de clásicos.
Propiedad de Darling Farms, Royal Vista Ranches y Bobby D. Cox, One Fabulous Eagle representaba una tarifa de 2020 de $3,500 en Royal Vista Ranches en Wayne, Oklahoma. Para obtener información adicional o contratos de reproducción, llame a Laura Erickson, Gerente de la granja al 405-449-7575.