RACING ESTA SEMANA
CARACTERISTICAS
SERVICIOS
Los cir adores, Dawn List y Rhonda Rae List de Double Bar S Ranch en la foto con el Padre ganador Grado 1, Tac It Like A Man.

© Double Bar S Ranch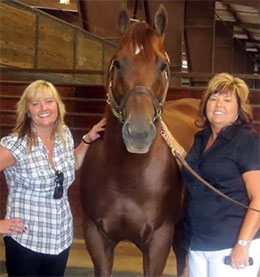 Ganador y Padre Grado 1, Tac It Like a Man Muere en Brasil
DALLAS, TX — 22 DE JUNIO DE 2020—
El ganador y padre estadounidense Grado 1, Tac It Like A Man SI 98, que ganó el PCQHRA Breeders' Futurity (G1) y Governor's Cup Futurity (G1) en 2006, murió de insuficiencia cardíaca el Domingo 21 de Junio en Brasil a la edad de 16 años. Era propiedad del sindicato TAC en el momento de su muerte.
"Completamente desconsolado escuchar la noticia de la muerte de Tac It Like A Man,'' dijo Dawn y Rhonda Rae List de Double Bar S Ranch en una publicación de hoy.
Criado y corrido por Double Bar S Ranch, Tac It Like A Man ganó o se colocó en ocho de las 12 salidas de carrera a los 2 y 3, ganando $413,563. Además de ganar los dos futurities Grado 1 antes mencionados en el hipódromo de Los Alamitos, también fue finalista en el Ed Burke Million Futurity (G1) y el Southern California Derby (G1).
Tac It Like A Man realizó la mayor parte de su carrera en los EE. UU. En Lazy E Ranch en Guthrie, Oklahoma y poco tiempo en Zerlotti Genetics Ltd. en Pleasanton, Texas, antes de ir a Brasil en 2017.
El ganador Grado 1 y padre Tac It Like A Man murió el 21 de Junio en Brasil.
© Lazy E Ranch
De 10 camadas para alcanzar la edad de las carreras, el hijo del padre líder de todos los tiempos,
First Down Dash,
engendró 191 ganadores, 49 caballos clasificados (15%), ganaron más de $5.5 millones con ganancias promedio por arrancador de más de $17,700.
Sus mejores progenie incluyen al ganador del Golden State Million Futurity (G1) Igotyourtac SI 88 ($577,067), ganador del Texas Classic Derby (G1), The Long Knife SI 108 ($425,699), ganador del Desert Classic Futurity-G3 Block N Tackle SI 105 ($232,698), Be Afraid SI 95 ($189,884, Sterlie Bertram Memorial S. [R.), A Tacky Chick SI 95 ($87,709, Indiana Grand Classic Stakes-dos veces), Illtacmanhattan SI 110 ($86,018, Bitterroot Futurity [R] -G3.), Fast Prize Tacita SI 89 ($65,916, Iowa Double Gold Futurity [R]) etc.
La madre de Tac It Like Man fue la Potranca Campeona de Carreras AQHA, Jumping Tac Flash SI 106 ($147,065) de Tolltac. Ella es la madre de 15 ROM, 6 tipo negro, incluyendo el Potro Entero 2 Añero Campeon de AQHA Racing Carters Cartel SI 103 ($659,146), Tac It Like A Man SI 98 (ver arriba), ganador de clásicos y Flash First SI colocado en G1 105 ($351,719), ganador de clásicos, Imjumpn SI 94 ($56,495), etc.
La abuela, ganadora de clásicos, Beat Your Pants Off SI 103 ($22,440), es una Yegua de Distinción de AQHA que produjo 24 ROM, 20 ganadores, 2 campeones, incluido el padre de múltiples corredores de clásicos y el campeón, Splash Bac SI 93 ($135,505).
Esta es también la familia de corredores como el dos veces campeón Feature Mr Bojangles SI 103 ($899,434), Ed Burke Million Futurity (G1) ganador Flokie Si 96 ($478,700 a 2, 2019), ganador Grado 1, Metallic Lion SI 101 ($263,045 ), Ganador del Derby de Invierno de Los Alamitos (G1) Headturner SI 101 ($294,0332), etc.