RACING ESTA SEMANA
CARACTERISTICAS
SERVICIOS
El dos veces campeón de Carreras AQHA, Flying Cowboy 123 a su llegada a Bob Moore Farms en Norman, Oklahoma.

© Kade Goggin / Plugged In Equine Marketing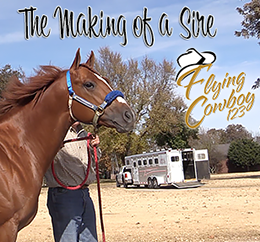 The Making Of A Sire: Flying Cowboy 123 - Final (VIDEO)
DALLAS, TX — 16 DE JULIO DE 2020—
StallioneSearch.com lanza el episodio final de su serie de cortometrajes sobre el Potro Entero Campeón 2 Añero AQHA y dos veces ganador de Grado 1
Flying Cowboy 123
.
El hijo del padre líder, Apollitical Jess, concluyó su primer año como semental en Bob Moore Farms en Norman, Oklahoma para la temporada de reproducción de 2020 con un libro completo de yeguas.
El cortometraje, escrito y producido por Greg Thompson de StallioneSearch.com, narra el prospecto del padre líder para 2020 que se retiró de su carrera después de una victoria en el Grado 1 Texas Classic Derby, además de obtener otro su segundo honor en el campeonato AQHA de Potro Entero 3 Añero Campeón de Carreras AQHA.
El millonario se unió a una sólida lista de sementales en Bob Moore Farms, que incluye el padre número 1 en segunda camada para 2020, Hes Relentless, el padre campeón mundial FDD Dynasty, así como el G1 colocado Docs Best Card, que actualmente es el padre número 3 en primera camada de ganadores de dinero.
La serie de videos de varias partes explora Flying Cowboy 123 desde su carrera de carreras hasta su entrada en una carrera como semental, incluyendo entrevistas con todas las conexiones que supervisaron su carrera de ingresos millonarios.
HAGA CLIC AQUÍ para ver el Episodio 7 de The Making Of A Sire: Flying Cowboy 123.
Esta es la quinta ocasión en que un padre ha sido seleccionado para ser destacado dentro de la serie Making Of A Sire en StallioneSearch.com.
Las primeras películas de Making Of A Sire destacaron al padre Kiss My Hocks mientras hacía la transición de carrera profesional a carrera como semental. El año siguiente en 2016, el ganador y campeón del All American Futurity (G1), Jess Good Candy, fue el tema de la segunda edición de la serie de películas. La próxima edición de la serie se centró en el ganador del All American Futurity (G1) y el campeón mundial AQHA One Dashing Eagle fue el semental principal, y el dos veces campeón de carreras de AQHA Kvn Corona fue el centro de atención en la serie 2019.
* * * * * * * * *
El cortometraje es un anuncio pagado por las conexiones de Flying Cowboy 123. El ganador tanto del Texas Classic Futurity (G1) como del Texas Classic Derby (G1) que se retiró a su carrera como semental con ganancias de $1,045,811. Fue nombrado Potro Entero 2 Añero Campeón de Carreras AQHA en 2018 y Potro Entero Campeón 3 Añero en 2019.