RACING ESTA SEMANA
CARACTERISTICAS
SERVICIOS
La sesión 1 de la subasta de temporada de sementales Premier Legends de Texas A & M en beneficio de los estudios reproductivos de sementales, finaliza al mediodía CST, el Jueves 17 de Diciembre.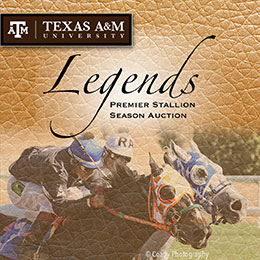 La Primera Sesión De Subasta De Sementales De Legends Premier Cierra El Jueves
COLLEGE STATION, TX — 16 DE DICIEMBRE DE 2020—
La primera de las tres sesiones de la 12ª Subasta Anual de la Temporada de Sementales Legends Premier de Texas A & M University se cerrará el Jueves 17 de Diciembre. Todas las ofertas deben recibirse antes del mediodía (CST).
Para registrarse y ofertar, done una temporada de sementales o más información HAGA CLIC AQUÍ .
Más de 40 grandes sementales de carreras todavía están disponibles, incluidos campeones y padres campeones Apollitical Blood , Carters Cartel , Coronas Leaving You , Ec Jet One , Flying Cowboy 123 , Hes Relentless , Ivory James , Moonin The Eagle , Ocean Runaway , Open Me A Corona , Separatist , Stray Cat , Streakin La Jolla, Tempting Dash y The Fiscal Cliff, por nombrar solo algunos.
Para obtener una lista completa de los sementales Racing Quarter Horse disponibles, HAGA CLIC AQUÍ .
Además, el recientemente renovado sitio web Legends Premier Stallion Auction tiene enlaces a sementales por razas, disciplinas e ICSI solamente. A continuación se muestran los enlaces a cada uno:
El mayor legado de Legends Premier Stallion Season Auction es proporcionar bases académicas y clínicas excepcionales para los aprendices de hoy, por lo que tendrán un impacto significativo en la industria del caballo del mañana.
Su éxito depende y es posible gracias a la generosidad de los donantes y compradores que participan en nuestra subasta anual de leyendas y los obsequios dirigidos específicamente al programa.
Planifique su temporada de reproducción ayudando a apoyar a estos futuros líderes a medida que continúan avanzando en sus conocimientos en la investigación y los estudios clínicos dedicados a las mejoras en la cría de caballos a través de los programas de estudios reproductivos equinos de la Universidad Texas A & M.
La sesión dos comenzará al mediodía del 5 de Enero de 2021 y continuará hasta el mediodía del 19 de Enero de 2021. La sesión final (tres) está programada desde el mediodía del 26 de Enero hasta el mediodía del 9 de febrero de 2020. Todos los horarios son hora central.
Para obtener información adicional, llame a Warren Hohertz al (979) 862-2031 o envíe un correo electrónico a: legends@cvm.tamu.edu .