RACING ESTA SEMANA
CARACTERISTICAS
SERVICIOS
Un padre de corredores de clasicos en su primera camada, Pyc Prize Time permanecerá la temporada 2021 en Moya Farms en Edcouch, Texas.

© Moya Farms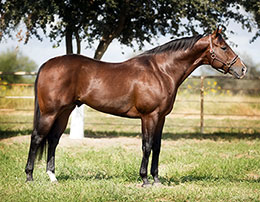 El Padre Pyc Prize Time A Moya Farms Para 2021
EDCOUCH, TX — 6 DE ENERO DE 2020
— El
padre de corredores de clasicos de Alejandro Moya,
Pyc Prize Time
SI 109, estará la temporada 2021 en
Moya Farms
en Edcouch, Texas. Su tarifa se ha fijado en $1,000. El semen enviado está disponible.
Desde solo tres titulares, en dos camadas para llegar a la pista, Pyc Prize Time ha engendrado al ganadordel Super Bowl Sunny Day ($15,226, tercero en Emerald Downs Juvenile Stakes).
El hijo del padre líder, Pyc Paint Your Wagon, ganó o se ubicó en ocho de las 13 salidas de su carrera y acumuló $46,369. Fue el segundo calificador más rápido hacia el Black Gold Futurity Championship de 2014 (RG3).
Pyc Prize Time, bajo el mando del jockey campeón Cody Jensen, calificando para el Black Gold Futurity Championship (RG3) de $318,217 en Will Rogers Downs.
© Fotografía Coady
Su padre, el ganador Grado 1
Pyc Paint Your Wagon
SI 107 ($889,581), es el padre de 117 ganadores de clásicos, 759 ganadores, 1 campeón con ganancias de casi $37 millones de dólares.
Las mejores arias de Pyc Paint Your Wagon incluyen a The Fiscal Cliff SI 109 (campeón, $580,425, AQHA Challenge Championship S.-G1, etc.), Papaws Paint SI 101 ($679,612, Rainbow Derby-G1, etc.), Mr Pyc To You SI 97 ($488,820, Campeón de Campeones S.-G1, etc.), Pyc Fun N Fancy SI 105 ($478,760, Heritage Place Derby-G3, etc.), Im a Fancy Pyc SI 92 ($454,765, Remington Park Oklahoma Bred Futurity [R] -G3, etc.), This Candys Awesome SI 105 ($434,265, Junos Request S.-G2, etc.), etc.
Pyc Paint Your Wagon también es el padre de Freighttrain B SI 115 ($421,761), el padre líder en 2020 de ganadores de dinero de 2 años, incluido la ganadora del All American Futurity (G1), Whistle Stop Cafe.
Pyc Prize Time está fuera de la yegua por Mr Jess Perry First Prize Fancy SI 96, una hermana de los ganadores Grado 1, First Prize Leesa SI 106 ($488,270), First Carolina SI 106 ($415,047), First Prize Robin SI 103 ( $295,147), First Prize Perry SI 102 ($24,946), First Prize Paris SI 108 ($92,910) y First Prize Stone SI 98 ($32,633).
First Prize Fancy es la madre de 22 ganadores de ROM, 6 de tipo negro, incluidos hermanos completos de Pyc Prize Time : ganador del Grado 3, Heritage Place Derby, Pyc Fun N Fancy SI 105 ($478,760), ganador de Remington Park OK-Bred Futurity (RG3) El principal padre de la tercera camada de 2020 Im A Fancy Pyc SI 92 ($454,765), ganador de clasicos First Fancy Prize SI 98 ($113,804), ganador Grado 3, Fast N Fancy SI 92 ($89,764) y Pyc First Prize Fany SI 98 ($92,303). ) También es la madre del ganador Grado 3 Weetonas Lafawn SI 102 ($179,500), etc.
La abuela es la antigua Yegua del Año, First Prize Dash SI 101 ($77,465), una hermana de Dash For Cash, el campeón mundial y padre líder de todos los tiempos, First Down Dash SI 105 ($857,256). Esta es la familia inmediata de dos ganadores del Heritage Place Futurity (G1), dos ganadores del Remington Park Futurity (G1) y el padre líder Heza Fast Dash .
Para obtener información adicional y contratos de reproducción con Pyc Prize Time, llame a Lupe Reyes, gerente de la granja, al 956-279-5615.