RACING ESTA SEMANA
Additional Challenges

Current Nominees and Sustaining Payments
CARACTERISTICAS
SERVICIOS
Preyn Onthe Mountain, bajo el mando de Jimmy Dean Brooks ganando el ARC Distaff Challenge Championship (G1) de $106,500 para potrancas y yeguas.

© Coady Photography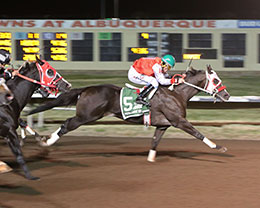 Preyn Onthe Mountain Ligera Sorpresa en ARC Distaff Challenge Championship de $106,500
ALBUQUERQUE, NM — 26 DE OCTUBRE DE
2019— Preyn Onthe Mountain obtuvo una victoria sorpresiva con una probabilidad de 11-1 en el ARC Distaff Challenge Championship (G1) de 400 yardas y $106,500 el Sábado para las potrancas y yeguas el Sábado en Albuquerque Downs.
Entrenado por Eddie Willis para el propietario Stetson Hurlbert, Preyn Onthe Mountain derrotó a 19-1 Weetonas Lafawn por medio cuerpo en: 19.625. Jimmy Dean Brooks montó a la hija de 4 años del padre Ivory James .
Preyn Onthe Mountain fue criado en Oklahoma por el Dr. Steve Hurlbert desde la yegua Preher de Panther Mountain. Ella venía de una victoria por cuello con probabilidades de 10-1 el 22 de Septiembre en el ARC Will Rogers Downs Distaff Challenge Stakes de $31,200 en Will Rogers Downs en Claremore, Oklahoma.
La jefa de carreras de AQHA, Janet VanBebber, presenta los trofeos a las conexiones de Preyn Onthe Mountain, para el triunfo en el ARC Distaff Challenge Championship (G1) en Albuquerque Downs el Sábado por la noche.
© Fotografía Coady
Preyn Onthe Mountain ha ganado cuatro de 10 carreras, incluidas sus tres salidas en la distancia de 400 yardas, y la participación del ganador de $48,990 en el bolso de su segunda victoria en clásicos aumentó sus ganancias a $114,265.
Weetonas Lafawn, de Cavenaugh Quarter Horses, LLC, ganó $21,300 por su segundo puesto. El entrenador Clinton Crawford ensilló a la hija de Valiant Hero, criada en Oklahoma, desde First Prize Fancy por Mr. Jess Perry . Juan Pulido fue el ganador de múltiples clásicos de casi $180,000. Weetona Stanley es la criadora.
Lj Moonrise terminó de nuevo en tercera posición para el propietario P & J Racing Ltd. Leon Bard ensilló a la hija de Separatist desde Rise Eagle con One Famous Eagle . Francisco Calderón tuvo la llamada para ganar $10,650. Elizabeth VIvanco es la criadora.
Curls Happy Wagon, Favorite Bling, Yashira Vista, True Copy, Love To Reason Br, The Polar Vortex y DF Apollitical Sign completaron el orden de llegada.
* * * * * * * * * * * * * * * * * * * *
El hipódromo y casino de Albuquerque Downs se encuentra en el corazón de Albuquerque en Expo New Mexico, sede de la Feria Estatal de Nuevo México, y la entrada general y el estacionamiento son siempre gratuitos (a través de la entrada del casino en Louisiana y Central). Para obtener más información, visite abqdowns.com y haga clic en el enlace 'Racing' en la parte superior de la página de inicio.