RACING ESTA SEMANA
Additional Challenges

Current Nominees and Sustaining Payments
CARACTERISTICAS
SERVICIOS
Cox Ranch se une nuevamente a la lista de patrocinadores de Racing Challenge en 2020.

© Coady Photography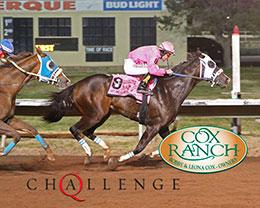 Cox Ranch Regresa Como Patrocinador del Campeonato de Distancia Challenge
AQHA RACING — 17 DE FEBRERO DE 2020—
Cox Ranch acordó reunirse con un grupo de patrocinadores valiosos para el programa Bank of America Racing Challenge, que ofrece más oportunidades de carreras para Cuartos de Milla en todo el mundo.
Este es el tercer año que Cox Ranch de Bobby D. Cox ha patrocinado el Campeonato de Distancia de Cox Ranch (G1), disputado como parte de los Campeonatos Bank of America Challenge que se llevarán a cabo en el Downs de Albuquerque el 24 de Octubre de 2020.
Se une a un grupo de otros patrocinadores valiosos que ayudan a complementar el programa Racing Challenge, que sirve a los caballistas con ricas bolsas para caballos de todas las edades.
Encabezando el grupo de patrocinadores está Bank of America, que no solo es el patrocinador principal del programa, sino también el patrocinador de la división del Campeonato Bank of America, una prueba en 440 yardas para caballos de 3 años en adelante. Bank of America ofrece valiosos programas financieros, incluida una tarjeta de crédito especial de AQHA disponible solo para miembros de AQHA.
Adequan® es el patrocinador de la división Adequan® Derby para 3 añeros. American Regent Health se dedica a promover el cuidado conjunto de los caballos con recetas aprobadas por la FDA, incluido Adequan® im
John Deere es el patrocinador de la división juvenil John Deere para 2 añeros. Con un grupo de productos de calidad, desde tractores hasta vehículos utilitarios, los miembros de AQHA pueden recibir hasta un 28 por ciento de descuento en equipos seleccionados de John Deere a través de AQHA Members Plus. Esto también está disponible en Canadá.
Awards Recognition Concepts es el patrocinador de la división ARC Distaff para potrancas y yeguas de 3 años en adelante. Una subsidiaria de AQHA, ARC puede cumplir con sus premios, trofeos y necesidades de hebilla con una variedad de productos personalizables.
Cox Ranch es la base del propietario y criador líder Bobby D. Cox en Peaster, Texas. Allí, producen algunos de los principales caballos de carreras Cuarto de Milla. Solo en los últimos años, esto ha incluido caballos como La Vencedora ($516,296), Hawkeye ($219,737), Duponte ($921,237), Chazaq ($963,664) y muchos más. El rancho también cría ganado comercial, con una venta anual de producción en Octubre.
* * * * * * *
Para obtener las últimas noticias sobre American Quarter Horse racing, visite aqha.com/racing .
AQHA News and information es un servicio de la American Quarter Horse Association. Para obtener más noticias e información, siga @AQHAnews en Twitter y visite aqha.com/news .