RACING ESTA SEMANA
Additional Challenges

Current Nominees and Sustaining Payments
CARACTERISTICAS
SERVICIOS
Rillito Park suspende su actual temporada para atender las preocupaciones relacionadas con COVID-19.

© Coady Photography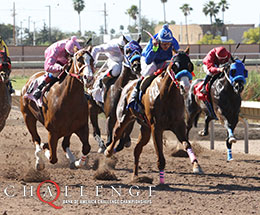 Finales de Rillito Park Regional Challenge En Espera Debido A COVID-19
TUCSON, AZ — 14 DE MARZO DE 2020
— Los funcionarios de AQHA Challenge notificaron a los finalistas del Bank of America Rillito Championship Challenge y al John Deere Rillito Juvenile Challenge el Viernes debido a la preocupación que rodeaba al COVID-19. Rillito suspendera su actual temporada.
En el caso de que Rillito Park pueda reanudar las carreras en una fecha próxima, la intención de AQHA es que la pista proceda a organizar las finales de sus dos carreras regionales programadas para el Sábado 21 de Marzo.
"Queremos que tengas la oportunidad de correr y buscar un lugar en el Campeonato AQHA Bank of America Challenge en Octubre,'' dijo el gerente de carreras de AQHA en un correo electrónico a los participantes.
En el caso de que las fechas restantes de la temporada de Rillito Park para 2020 no se realicen, el bolso (s) se distribuirá a los finalistas elegibles de acuerdo con las Condiciones del Challenge.
El Libro de condiciones Challenge AQHA se puede encontrar en AQHA.com o HACIENDO CLIC AQUÍ .
Para obtener información adicional, puede comunicarse con la línea directa del desafío al 877-222-7223.