RACING ESTA SEMANA
Additional Challenges

Current Nominees and Sustaining Payments
CARACTERISTICAS
SERVICIOS
El clasificado más rápido, Dr Tool, encabezará un campo completo en el Adequan Weber Downs Derby de $50,771 el Domingo.

© Kira Crook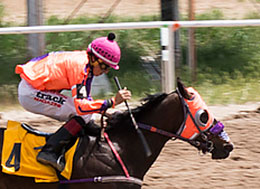 Dr Tool Espera Regresar en Final del $50,771 Adequan Weber Downs Derby Challenge
OGDEN, UT — 23 DE MAYO DE 2020—
El clasificado más rápido, Dr. Tool buscará repetir su rendimiento de prueba el Domingo cuando se enfrente a un campo de 10 en el Adequan Weber Downs Derby de $50,771.
Los 10 clasificados más rápidas de las pruebe salida en el 2020 $150,000-est. Adequan Derby Challenge Championship (G3) se disputará el 24 de Octubre en The Downs en Albuquerque como parte de la Noche del Bank of America Championship Challenge.
La carrera es parte de una gran tarjeta de carreras clásicas dominicales para la pista de Utah con el horario de primera carrera establecida para el mediodía (MDT). El Adequan Weber Downs Derby Challenge se disputará como la Carrera 8 en la tarjeta con un horario aproximado de 2:55 pm (MDT).
Compitiendo con el propietario-entrenador Luis González, Dr. Tool entra a la carrera después de una victoria de prueba por dos cuerpos el 10 de Mayo cuando registró el mejor tiempo de calificación. El jinete Jesús Valenzuela volverá a los hierros a bordo del hijo 3 añero del campeón Kiss My Hocks.
Criado en Texas por Andy Caulo, de la yegua hija de One Famous Eagle, Where Eagles Soar, Dr. Tool compiló un record (8) 1-2-2 y ganó $36,595. Fue tercero en el $245,946 Downs en Albuquerque-La Fiesta Futurity en Septiembre pasado. El caballo castrado rompió su maiden por un cuerpo y cuarto en Diciembre en Sunland Park, pero fue descalificado y colocado en último lugar para una prueba positiva. Ha ganado $35,595.
El ganador de clásicos, Thrill Of The Cartel, espera recuperarse de un tercer lugar detrás de Dr. Tool en las pruebas después de estar apretado temprano. El hijo del padre líder, Favorite Cartel, ganó tres de siete salidas en 2, incluyendo el Emerald Downs John Deere Juvenile Challenge.
Condicionado por el entrenador Mark Hanson y compitiendo por Hanson Racing, Robin Dunn y Kevin Dunn, el alazán castrado fue finalista en el $130,625 John Deere Juvenile Challenge Championship(G2), $91,256 Bittterroot Futurity y $20,000 Rocky Mountain Spring Classic Futurity a 2.
Criado en Texas por Fulton Quien Sabe Ranches, LP, Thrill Of The Cartel ha ganado $28,626 y será montado por su jinete habitual Jesus Canales desde la posición numero 7.
La alineación completa del Adequan Weber Downs Derby Challenge, en orden de posiciones de puertas, incluyendo asignaciones de jinete:
Trumpster (Aaron Belloc)
Shes Emotionless (Oscar Cervantes)
Dh Renaes Dynasty (Jose Guzman)
Liquid Courage B (Armando Viramontes)
Calida (Eric Ayala)
Dr Tool (Jesus Valenzuela)
Thrill Of The Cartel (Jesus Canales)
Kiss Fast Zoom (Joseph Belloc, Jr.)
Orange Vodka Shooter (Tyson Lusk)
Meghans Feature Sign (Michael Ybarra)