RACING ESTA SEMANA
Additional Challenges

Current Nominees and Sustaining Payments
CARACTERISTICAS
SERVICIOS
Louisana Bunny, bajo el mando del jockey Javier Matias, ganó el John Deere Emerald Downs Juvenile Challenge de $42,356 el Jueves por la noche.

© Reed Palmer / Emerald Downs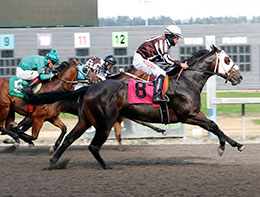 Louisana Bunny Toma Segundo Clasico Con John Deere Emerald Juvenile
AUBURN, WA — 20 DE AGOSTO DE 2020—
El entrenador Nick Lowe ensilló a su segundo ganador de clásicos consecutivo en la tarjeta de las carreras el Jueves en Emerald Downs cuando envió a Louisana Bunny, ganadora del Grants Pass Firecracker Futurity, en el John Deere Emerald Downs Juvenile Challenge de $42,356.
El jockey Javier Matias montó a la hija del semental Louisiana Senator sobre el campo de 350 yardas en: 18.456 segundos, con un viento cruzado de 6 mph, para recoger el bolso del ganador valorado en $20,331.
Louisana Bunny, compitiendo para el propietario y criador Lee Markholt, casi duplicó sus ganancias a $44,931. El ganador de dos de tres salidas esta temporada está fuera de My Best Bunny Yet por Best Advice.
Las conexiones ganadoras de Louisana Bunny aceptan el trofeo de clásicos del John Deere Emerald Downs Juvenile Challenge.
© Reed Palmer / Emerald Downs
También se incluye en la victoria un puesto para el Grado 2 , John Deere Juvenile Challenge Championship de $250,000 cual se disputará el 24 de Octubre durante los Bank of America Challenge Championships en The Downs en Albuquerque.
En apenas la segunda salida de su carrera, Cm Dillingham Advice terminó a medio cuerpo del ganador para ganar $8,663 por el segundo. También entrenado y criado por Lowe y propiedad de Chris Sutton, el hijo de Best Advice ingresó al John Deere Juvenile tras una victoria de prueba en el Grants Pass Firecracker Futurity, donde rompió su Maiden en su debut profesional.
Fuera de la yegua por Dash Ta Fame Cm Mo Baby, el castrado ha ganado $12,483 en dos salidas. Luis González esta abordo.
Con un cuello atrás en tercer lugar, el Super Bowl Sunny Day de Gilberto Madrigal ganó $4,236 por este esfuerzo. Entrenado por José Gómez, el hijo de Pyc Prize Time ganó el Firecracker Consolation en su última salida el 6 de Julio.
Alejandro Moya crió el castrado desde la yegua por Holland Ease, Holland Last Star. Cerapio Figueroa montó a la ganadora de $9,826.
Al salir como la segunda favorita, Louisana Bunny pagó $8.20 para ganar, $3.00 para colocar y $2.40 para mostrar.
Not Another Lover, No Juans Fool, Skyywalker, Millers Fortune y Coopers Best Card completaron el campo.