RACING ESTA SEMANA
Additional Challenges

Current Nominees and Sustaining Payments
CARACTERISTICAS
SERVICIOS
Madewell, bajo el mando de Jorge Bourdieu, ganó el AQHA / The Downs en Albuquerque Distance Challenge el Domingo.

© Coady Photography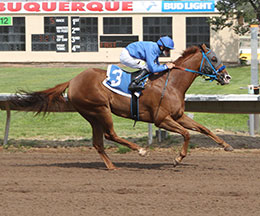 Madewell Toma Boleto De Campeonato Ganando Albuquerque Distance Challenge El Domingo
ALBUQUERQUE, NM — 8 DE AGOSTO DE 2020
— Madewell, bajo la dirección de Jorge Bourdieu, apostó y luego dividió los caballos en la recta final para ganar el Grado 2, AQHA / The Downs at Albuquerque Distance Challenge de $54,511 el Domingo por la tarde.
El hijo de 6 años del padre Jess Jones aseguró su regreso para competir en el Grado 1 Cox Distance Challenge de $100,000 el 24 de Octubre durante la Noche de Bank of America Challenge Championship en The Downs en Albuquerque. El año pasado, el castrado alazán fue tercero en la victoria del campeonato Let There Be Sound.
Condicionado por el entrenador Bernard Baca, Madewell registró el tiempo de clasificación más rápido para el Downs at Albuquerque Distance Challenge en dos pruebas disputadas el 8 de Agosto. Compitiendo para los propietarios-criadores Ray y Davy Madewell, Madewell está fuera de la yegua Streakin Peacock por Streak Of Cash.
Las conexiones ganadoras de Madewell aceptan el trofeo de The Downs at Albuquerque Distance Challenge el Domingo.
© Fotografía Coady
El ganador de múltiples niveles ha compilado un récord de (27) 6-8-2 y la bolsa del ganador de la distancia de $26,125 de hoy empuja sus fondos a $176,304. También ganó el Grado 1, Remington Park Distance Championship (G2) en 2019.
Nicos First Cartel terminó a 1 cuerpo y ½ detrás del ganador y ganó $11,175 por el segundo. Miguel Pérez tuvo la llamada de montar a bordo del hijo castrado de First Prize Perry de 4 años de la propietaria Erica Carreón y el entrenador Álvaro Hinojos. Desde la yegua por Royal Cartel, Cartel Moon, Nicos First Cartel ha ganado $73,318. Fernando Canales es el criador.
Eyesa Superstitious, criada en Texas por Debra Gotovac, finalizó otro cuerpo y medio en tercer lugar. El entrenador Bradley Bolen nombró a Alejandro Medllin para montar a la yegua por Agouti de 5 años en Eyesa Precious by Eyesa Special. La bolsa de $5,451 aumentó las ganancias de las yeguas a $27,213.
Mahoney N Tacklebery, Illtakeyouforaride, Loan Sharky, A Separate Secret y Bushwacker Dash completaron el campo.
* * * * * * * * * * * * * * * * * * *
El hipódromo y casino de Albuquerque Downs está ubicado en el corazón de Albuquerque en Expo Nuevo México, sede de la Feria Estatal de Nuevo México, y la entrada general y el estacionamiento son siempre gratuitos (a través de la entrada del casino en Louisiana y Central). Para obtener más información, visite abqdowns.com y haga clic en el enlace "Carreras" en la parte superior de la página de inicio.