RACING ESTA SEMANA
Additional Challenges

Current Nominees and Sustaining Payments
CARACTERISTICAS
SERVICIOS
Viva Le Don (Número 8), bajo el mando del jinete Luis Vivanco, supera a Jordan Eagle (Número 6) en el $61,149 Bank of America Texas Challenge Championship el Sábado en Retama Park.

© Coady Photography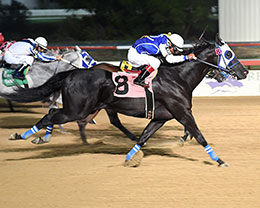 Viva Le Don Voló Tarde en Bank of America para Agarrar un Boleto a Albuquerque
SELMA, TX — 29 DE AGOSTO DE 2020—
Viva Le Don logró tres seguidos el Sábado por la noche mientras ganaba su boleto para el Bank of America Challenge Championship Night el 24 de Octubre en The Downs en Albuquerque.
Bajo el mando del jinete Luis Vivanco, Viva Le Don atrapó al ganador de múltiples clásicos Jordan Eagle en el alambre en el $61,149 Bank of America Texas Challenge Championship el Sábado en Retama Park. La victoria no solo le valió al hijo de Rock Solid Jess un día de pago de $29,352, sino que también le garantizó un lugar en el $250,000 est. Grado 1, Bank of America Challenge Championship.
Corriendo para el propietario Rocky J Running Horses y la entrenadora Tammy Kay Johnson, la ganadora de carreras de grado ha ganado seis de 20 salidas y ganó $330,289. Ganó el TQHA 550 Stakes (RG3) en su última salida y el Tower Of The Americas Stakes el 4 de Julio en Retama Park.
Las conexiones ganadoras de Easy Blinkers aceptan el trofeo del TQHA Sire's Cup Derby en Retama Park.
© Fotografía Coady
Jack Manny y Johnson criaron al castrado de 4 años de edad en Texas de la yegua hija de
Pyc Paint Your Wagon
, Viva Arriba.
El ganador de carreras de grado Jordan Eagle corre para el propietario Javier Rosique. El entrenador Alonso Neri condiciona al hijo de One Famous Eagle y de la yegua productora de múltiples ganadores de clásicos, hija de Pyc Paint Your Wagon, Pyc Prize Doll. Montado por Manuel Urieta, Jr., Jordan Eagle recogió $12,536 para aumentar sus ganancias a $242,858. Ganador del TQHA Texas Classic (RG3) en su última salida, Jordan Eagle fue criado por Weetona Stanley.
Serendipity Rocks, otro caballo castrado de Rock Solid Jess ganador de múltiples carreras de grado, terminó por un cuerpo atrás para ganar $6,115 por tercero. Esteban Rubio entrena al castrado gris para la criadora-propietaria Sarah Huskey. Hijo de la yegua Serendipity Rocks, hija de Behold A Beduino ha ganado $153,956.
Krash Course, Kas Tempting, Jess Paint Me Quick, Roseinante y Five Bar Stoli completaron el campo.
* * * * * * * * * *
Todas las carreras de Retama Park se pueden ver en Q-RacingVideo.com.