RACING ESTA SEMANA
CARACTERISTICAS
SERVICIOS
Sesión 3, la sesión final de la Subasta Anual de Sementales Premier Texas A&M Legends que beneficia a Stallion Reproductive Studies, termina al mediodía CST, Jueves, 6 de Febrero.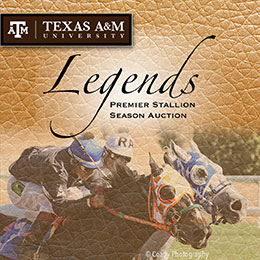 Sesión Final de Subasta Anual de Sementales Premier Texas A&M Legends Cerrará el Jueves
COLLEGE STATION, TX — 4 DE FEBRERO DE 2020—
La tercera y última sesión de la 12ª Subasta Anual de Sementales Premier Texas A&M Legends cerrará el Jueves, 6 de Febrero. Todas las ofertas deben recibirse antes del mediodía (CST).
Todavía hay más de 40 grandes sementales de carreras disponibles, incluyendo el campeón y padre campeón, Apollitical Blood. Padre del Castrado Campeón 2 Añero de Carreras AQHA de 2019 Trump My Record, en su primera camada a correr, Apollitical Blood encuentra en Robicheaux Ranch en Breaux Bridge, Louisiana por una tarifa anunciada de $6,500.
El gerente de la granja, Ryan Robicheux, le dijo al gerente de Leyendas, Warren Hohertz, que el hijo del padre lider, Apollitical Jess, hará una reserva completa en 2020. Se insta a los criadores a que no pierdan esta oportunidad mientras ayudan a una gran causa.
Los sementales disponibles incluyen Apollitical Blood, Special Effort (ICSI ONLY), Hez Our Secret, Separatist, One Fabulous Eagle, Coronas Leaving Your, Carters Cartel, Lucky Wonder Horse, Dominyun, Winners Version, Bodacious Dash, Ocean Runaway (3 Temporadas Donadas), Fly The Red Eye ( 2 Temporadas donadas), Royal Quick Dash, Stray Cat, Shining First Dashy Power Jam (TB).
También Corona Surfer, Bf Farm Boss, You Drive I Fly, Agouti, Desirio, FDD Going Grand, KS Cash N Fame, Sizzlin Cartel, First Prize Doc, Kas Tempting, Rc Me Leaving You, Brace For Bernal, Igotyourtac, CFour A Darknight, A Guy With Proof, Lethal Corona, Kinenos Moon, Marsala Red, Rooster Sparks, Bogart, Four Six Jess, SR Fame Has Perks y Fly the Red Eye.
HAGA CLIC AQUÍ para ver la lista de sementales todavía disponibles para la Subasta de la Temporada de Sementales Premier Legends 2019 o para registrarse para ofertar HAGA CLIC AQUÍ.
Para obtener información adicional, llame a Warren Hohertz al (979) 862-2031 o envíe un correo electrónico a: legends@cvm.tamu.edu.