RACING ESTA SEMANA
CARACTERISTICAS
SERVICIOS
El ganador de Grado 1, Turbulent Times, obtuvo su primer ganador de clásicos el Sábado cuando Echo Of Thunder ganó el Beehive Futurity de $95,846 en Laurel Brown Racetrack.

© Courtesy Midwest Equine & Veterinary Hospital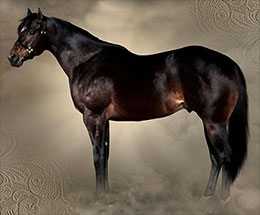 Padre en Tercera Camada, Turbulent Times, Obtiene Primer Ganador de Clásicos
TRAFALGAR, IN —20 de Junio de 2020—
Ganador de Grado 1
Turbulent Times
engendró a su primer ganador de clásicos el Sábado cuando Echo Of Thunder de 2 años ganó el Beehive Futurity de $95,846 en Laurel Brown Racetrack en South Jordan, Utah.
Bajo el jinete Edgar Martínez, Echo Of Thunder terminó por tres cuartos de cuerpo delante del campo mientras paraba el reloj en: 17.485 segundos, lo que equivale a un índice de 101 velocidades. Fue la tercera victoria consecutiva de cuatro salidas del 2 añero.
Propiedad y entrenado por Lázaro Mendoza, Ekn Of Thunder fue criado en Utah de Bf Memory Lane por Maknmoves. Criado por Birrell Farms, Echo Of Thunder ganó $43,012 por su esfuerzo.
De un número limitado de arrancadores, en tres camadas a correr, Turbulent Times ha engendrado 7 ganadores, 1 ganador de clásicos y 3 colocados en clásicos con ganancias promedio por arrancador de más de $7,500.
Sus mejores artistas incluyen Echo Of Thunder SI 101 (3 victorias en 4 salidas a 2, 2020, $38,339 Beehive Futurity), Gg Friendship SI 93 (2 victorias a 3, $7,973 2o Oneida County Futurity), Its Moana Time SI 90 (ganador en 2, $4,660 3o-Utah Bred Futurity), Sign Of Turbulence SI 91 (ganador a 3, $2,414 2o Rupert Downs Overnight Futurity), Furyofthehuracan SI 90 (2 victorias a 3, $21,347, finalista Ed Burke Juvenile), Bo Times 9 SI 88 (ganador a 3, $13,452), Turbulent Eyes SI 92 (2 victorias a 3, $7,063) etc.
Turbulent Times ganó cinco de las ocho carreras ganando $564,146. Ganó el Golden State Million Futurity (G1) y fue finalista en el Ed Burke Million Futurity (G1) y Ruidoso Derby (G1).
Es hijo del padre campeón Furyofthewind SI 96, padre de ingresos por más de $7.1 millones. Su madre es la yegua Streakin La Jolla, colocada en el G2, Streakin La Tac SI 98 ($46,810). Ella es madre de 8 ROM, 5 tipo negro, incluido el ganador de Grado 2 Testing The Ice SI 103 ($388,620), Eyesa La Tac SI 99 ($121,107), etc.
Turbulent Times representaba una tarifa 2020 de $1,200 en Midwest Equine & Hospital Veterinario en Trafalgar, Indiana. Para información adicional o contratos de reproducción, llame al Dr. Roger Beam al 317-878-7713.