RACING ESTA SEMANA
CARACTERISTICAS
SERVICIOS
El semental pensionado de Dakota del Sur, No Brakes Now falleció el 28 de Julio.

© Larry Larson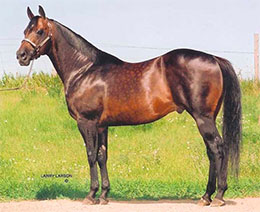 El Semental de Dakota del Sur No Brakes Now Fallece a los 29
Q RACING —30 de Julio de 2020—
El semental pensionado No Brakes Now falleció pacíficamente la noche del 28 de Julio de 2020, en su hogar de muchos años con los propietarios Bob y Gary Johnson de Lemmon, Dakota del Sur.
El semental de 29 años fue criado por Haberfelde Ranch de Bakersfield, California, y era hijo de The Signature y de la yegua Timeto Thinkrich de Timeto Thinkrich. Compitió en ocho pistas durante sus 12 salidas de carrera y se retiró como corredor colocado en clásicos.
Los Johnson adquirieron el caballo como 3 añero.
Engendraría 306 crías registradas durante su carrera como semental, incluyendo 57 ganadores de 109 arrancadores y ganadores de $625,057, liderados por Sign The Check Now ($40,442). Entre ellos hay 13 ganadores de clásicos y nueve corredores colocados en clásicos. También engendró caballos que obtuvieron puntos AQHA en competencias abiertas y de aficionados.
"Brakes era amable y gentil, él era inteligente y atlético", publicaron los Johnson en su página de redes sociales. "Él fue la base de nuestro programa de cría, y estábamos muy orgullosos de su descendencia. También hemos tenido varias yeguas de No Brakes Now para que nuestra banda de yeguas de cría continúe con sus increíbles rasgos. Te echaremos mucho de menos amigo, Brakes.
* * * * * * *
Para obtener las últimas noticias sobre carreras de Caballos Cuarto Americano, visite aqha.com/racing.
AQHA Noticias e Información es un servicio de la Asociación de Caballos Cuarto Americano. Para obtener más noticias e información, siga @AQHAnews en Twitter y visite aqha.com/news.