RACING ESTA SEMANA
CARACTERISTICAS
SERVICIOS
Chicks Dash Easy, colocado en múltiples clásicos y padre de ganadores de clásicos, falleció el 17 de Agosto.

© Courtesy SGT Derr Foundation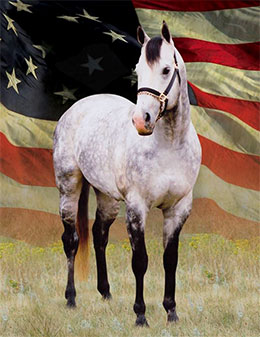 Padre de Multiples Ganadores de Clásicos Chicks Dash Easy Fallece a los 22
RAPID CITY, SD — 8 DE SEPTIEMBRE DE 2020—
Chicks Dash Easy, un hijo colocado en múltiples clásicos del padre líder Chicks Beduino, falleció el 17 de Agosto. Él tenía 22 años. Estaba de pie en Sgt. Deer Foundation en Rapid City, Dakota del Sur.
Criado y corrido por Ken y Reba George, Chicks Dash Easy ganó o colocó en nueve de 23 salidas y ganó $21,254. Nombrado Oklahoma High Point 3-Year-Old, fue segundo en el Prairie Meadows Central Distance Challenge y tercero en Los Alamitos Stakes en Lone Star Park. También fue finalista en el Grado 3, Oklahoma Derby Challenge.
Su descendencia ha establecido récords de pista y tiene potros actuando en la pista y en la arena.
Chicks Dash Easy engendró 29 ROM de 49 arrancadores con ganancias de más de $514,000. Sus mejores artistas incluyen Chick With Speed SI 106 (5 victorias, $73,631, 3o Oklahoma Bred D. – RG3, etc.), DM Screamin Chick SI 113 (4 victorias, $44,965, 3o Fair Meadows M., etc. NTR PRM 250 yds .), TS Dasher SI 97 (3 victorias, $40,208), KG Kick The Habit SI 90 ($38,126), Dashin Aint Easy SI 97 ($36,856), TJ Get Er Done SI 96 ($28,123), Rare Strawflyin Chick SI 92 ($19,226) ), Chicks EZ Money SI 94 (3 victorias, $17,507), etc.
El padre de Chicks Dash Easy, Chicks Beduino, engendró más de $35.5 millones en ganancias de carrera. Su madre es la yegua ganadora del Dash For Cash Designer Dash SI 93, ganadora del Sunbelt Futurity y finalista en el Grado 3 Oklahoma Derby Challenge. La abuela es la yegua Easy Jet Easy Morning SI 106.
Las tarifas de cría vendidas a Chicks Dash Easy ayudan a Sergeant Colton Levi Derr Foundation con los esfuerzos para ayudar a los veteranos y soldados que regresan con problemas relacionados con el trastorno de estrés postraumático (PTSD por sus siglas en ingles).
Sergeant Colton Levi Derr Foundation honra el nombre de Colton Levi Derr. Colton sufrió un trastorno de estrés postraumático (PTSD) luego de sus viajes de combate en Irak y Afganistán. En apoyo de la Guerra de Estados Unidos contra el Terrorismo durante la Operación Libertad Iraquí y la Operación Libertad Duradera, SGT Derr, la 1.a División del Ejército de los Estados Unidos, completó más de 500 misiones de combate.
El semen congelado está disponible a Chicks Dash Easy. Para obtener información adicional HAGA CLIC AQUÍ o llame al 605-545-2505.